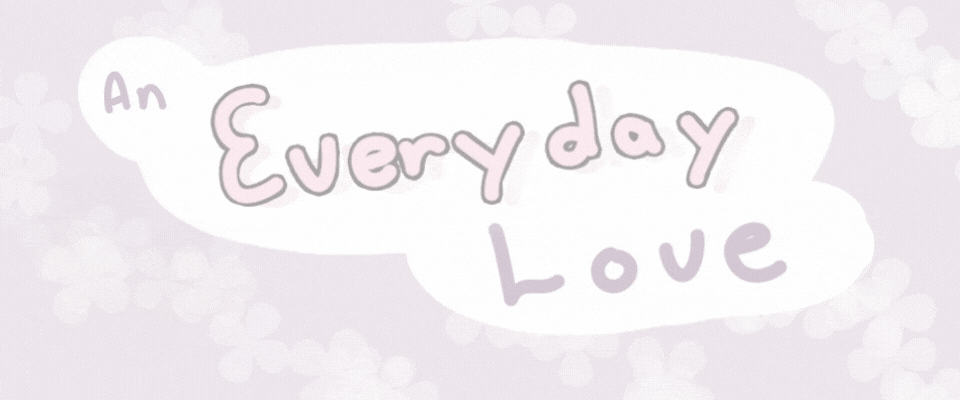 An Everyday Love
✨Hi, everyone! ✨
Despite having my wifi cut out for nearly two weeks, I was able to get a lot done this month - including the complete script with the largest scene revisions!!!! Next, I have to complete the medium-sized revisions (almost done with those!) and then I can add more customization tidbits (and then achievements, theater replays, etc.). My health has been stable, which I'm grateful for, and now I feel more excited than ever to polish this game and add all the little parts that will make the final version glow. As always, I'm super grateful for everyone who's following me, giving my game a chance, and spreading the word! Current progress stands at:

✍🏼 Writing
All routes are written with major scene revisions complete!

I included a snippet of some cut dialogue above!

Wrote a bit in the bonus content and walkthrough booklets
Brainstormed more ideas for my next project
Officially crossed the 180,000 word count line!
🎨 Art
Drew some bonus content doodles
Finished the 4th CG with 12 (!!!) MC variations!
Completed an extremely rough sketch of the 5th CG (included above)
💻 Coding
Wrestled with more phone message implementation - found some bugs and tried out some workarounds
Figured out a quick fix for implementing CG variations into the Image Gallery (is it the cleanest? No. Does it get the job done? Yes. Good. Okay. Moving on and perhaps revisiting if I have time).
Located the history button bug in the demo (fixed in the final version)
🤔 Other
Sent out some emails to reviewers and streamers and got a few responses!

Check out BlackBelleFlowers's stream here!

I'm continuing to update my social media (check out my Twitter for more quick updates)
And there's my April update! This month has been such a busy period for me work-wise, and with some of my family testing positive for covid (I'm negative), I've been more vigilant with my health than ever. Even so, I was able to reach my goals and then some, so I'll be looking for more good news coming into May (perhaps 5 pages done in both booklets, more social media updates, minor scene revisions complete, and minor art complete with some progress in the 5th CG, but I won't push for completion just yet).

❤️Thanks for reading! ❤️
Comments
Log in with itch.io to leave a comment.
aaaaaahhhhhhhh!!!!! im so excited for this gameeeeeee
So much amazing progress - congrats! :D